You are here :

Aminata, support manager at Yikri in Burkina Faso
Aminata, support manager at Yikri in Burkina Faso
Aminata Madina Ouedraogo is support manager at Yikri, Entrepreneurs du Monde's program in Burkina Faso. She testifies.
My name is Aminata Madina Ouedraogo and I am 30 years old. I grew up in Bobo Dioulasso and I took my baccalaureate (post-16 education) there, but I didn't pass it. A year later, while at my big sister's in Ouagadougou, I tried again, and got my baccalaureate with the help of my brother-in-law. After that, I decided to continue my studies at university.
I am from a family with six children. I lost my mother when I was in CP2 (early primary school). Four years later, my father also died.  Our siblings were then separated, and my little brother and I went to live with our aunt. My brother became like my own child, and he sadly died. It destroyed me: my marks continued to fall and I no longer spoke to anyone. Fortunately, I have now recovered. I understood that I need to pick myself up, whatever happens. Finding a job really helped me.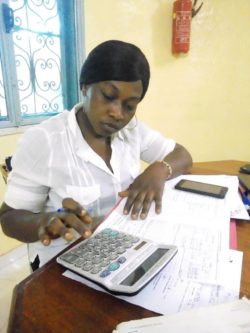 My support manager at Yikri* helped me, and made me realise that I have potential. I had applied for several positions and was taken on by Yikri, and have been employed there as a lending manager ever since. I identify beneficiaries and their businesses and then prepare their applications. After that, I track the business owners' progress so that I can advise them and help them avoid getting into repayment difficulties. With the income that I earn, I can continue to pay for my university studies. I'm also planning to open a restaurant, and I am in the process of creating my own organisation advocating for female/male equality.
*Yikri: Burkina Faso social microfinance institution founded and incubated by Entrepreneurs du Monde