You are here :

Financial transparency
Financial transparency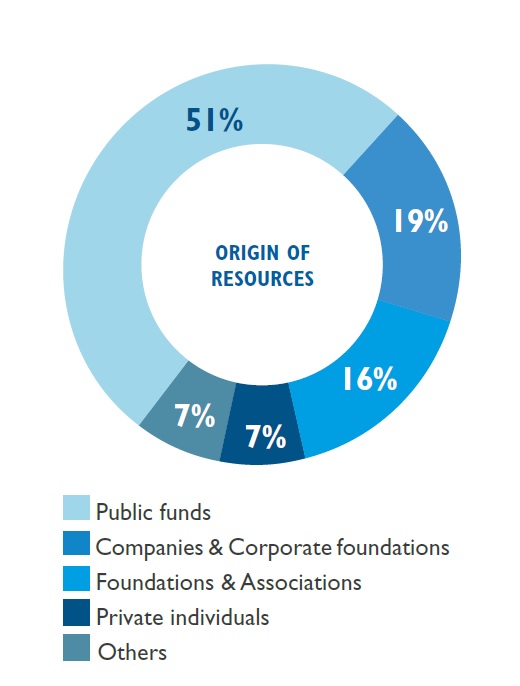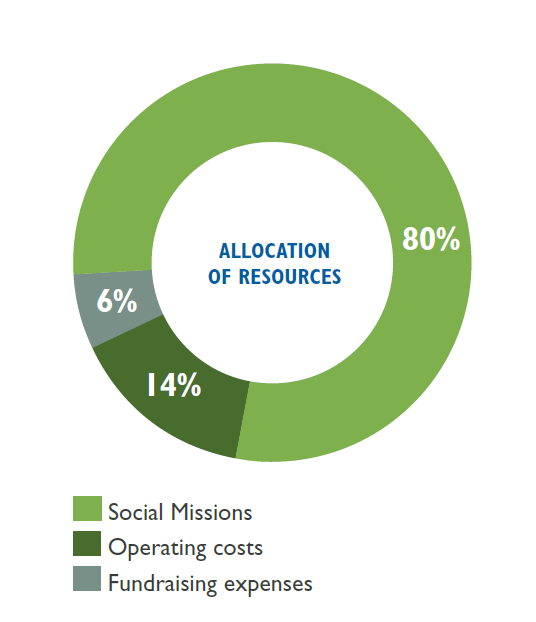 Resources collected

We raised € 4,530,006 in 2017 compared with € 3,885,302 collected in 2016, a 17% increase.
Public funding showed a significant increase (+46%): € 2,322,845 compared to €1,596,860 in 2016. Public funding represented one of the most important resources for 2017 (51%).
The contribution of enterprises and enterprise foundations doubled: it exceeded the €421,116 donated in 2016, totalling € 835,279 for 2017. This contribution represents 19% of the 2017 resources.
Contributions from other foundations and associations, on the other hand, decreased: they dropped from € 1,151,805 to € 728,110. This represented 16% of the 2017 resources.
Furthermore, as shown in the 2016 financial report, the donations collected from the general public last year have been exceptionally significant following the merger with the association Xetic. This year, we will return to a normal level (€ 307,235), or 7% of collected resources.
Lastly, other products–mainly transfers of operating expenses and some services–represent € 336,537, or 7% of the total resources.
The allocation of resources
In line with the increase in finances, operating expenses increased from € 4,077,407 in 2016 to € 4,437,024 in 2017, an increase of 9%.
The majority (80%) of resource allocation is dedicated to social missions.
Social Missions
Entrepreneurs du Monde's social missions (€ 3,535,420) were carried out according to the geographical distribution indicated on the graph on the following page.
48% of this amount was allocated to our actions in Africa, 29% in Asia, 22% in Haiti and 1% in France.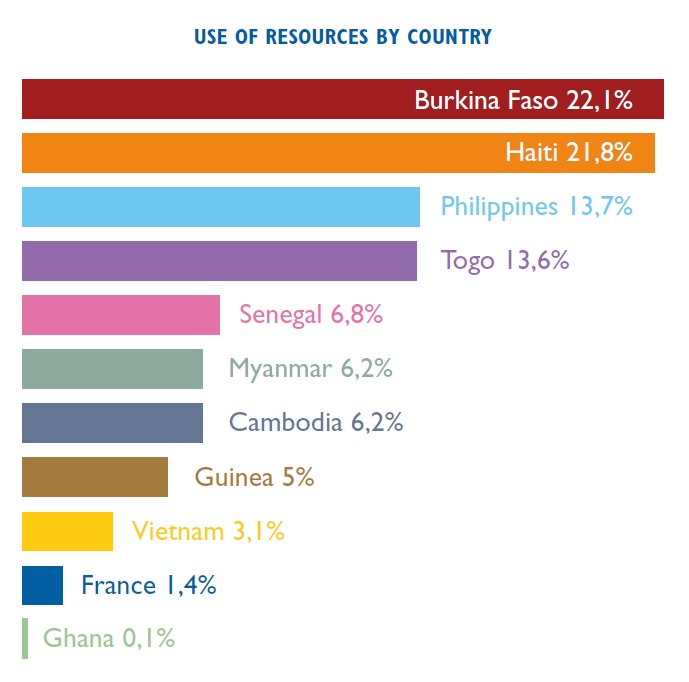 Action in France unfolds in the following 4 areas:
• preparation of a programme launch in Auvergne-Rhone-Alpes
• organisation and implementation of transversal actions directly related to the programmes (e.g. participation and support in the organisation of capitalization workshops conducted in the field)
• higher education training in our specific fields
• efforts to raise awareness of peace, solidarity and sustainable development in schools through the KuriOz association.
Excess of fiscal year resources :

The resources collected have made it possible to cover the expenses incurred and generate an excess of € 12,387.
€ 275,119 fundraising and communication expenses
€ 626,485 Operating costs
The fundraising costs amount to € 275,119 (1% more than last year). These are the costs incurred for providing communication and fundraising materials and the salaries for the team members dedicated to communication, fundraising and maintaining relations with sponsors and donors.
Operating costs appear to be higher than last year: € 626,485 compared to € 485,273 in 2016. In fact, the structural and technical support costs incurred by the head office are stable and do not exceed the amount of 2016. However, we have made a change in the calculation method to improve the internal monitoring of these expenses.
---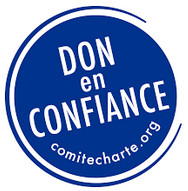 Entrepreneurs du Monde is accredited by the Comité de la Charte du don en confiance.
Audit of the financial report is made by KPMG's auditors.