You are here :

Financial transparency
Financial transparency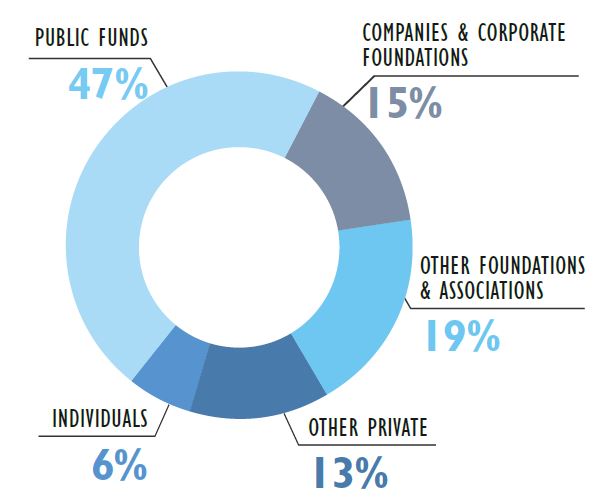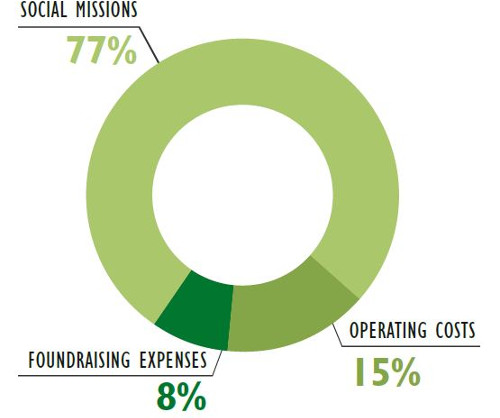 Resources collected

We raised €5,411,196 in 2018, compared with €4,530,006 in 2017 – a 19% increase.
Public funding still represents the largest part of our resources (47%), with €2,566,238 in 2018 compared to €2,322,845 in 2017, a 10% increase.
Contributions from family foundations and associations follow closely, representing 19% of the 2018 resources with a significant increase (+41%): €1,029,809 compared to €728,110 in 2017.
Contributions from companies and company foundations remain stable (15%) at €831,150 compared to €835,279 in 2017.
However, as is the case for the rest of the sector, donations collected from the general public fell: €283,158 in 2018 compared to €307,235 in 2017, corresponding to an 8% decrease. They represent 6% of resources in 2018.
Lastly, other products – mainly the gain from the Chamroeun sale, transfers of operating expenses and some services – represent €700,841, or 13% of total resources.
The allocation of resources
Thanks to the increase in resources, we had more financial means to act. Operating expenses increased from €4,437,024 in 2017 to €4,654,758 in 2018, an increase of 5%. The majority (77%) of resource allocation was dedicated to social missions.
Social Missions
Entrepreneurs du Monde's social missions (€3,582,547) were carried out according to the geographical distribution shown on the graph on the next page. 53% of this amount was allocated to our actions in Africa, 23% in Asia, 20% in Haiti and 4% in France.
The actions in France take place in the following 4 areas:
• development of the ICI programme in Auvergne-Rhone-Alpes
• preparation of the "Un toit vers l'emploi" programme launch in Normandy
• organisation and implementation of transversal actions directly related to the programmes (e.g. participation in and support with the organisation of 3 capitalisation workshops in Africa and Asia)
• higher education training in France.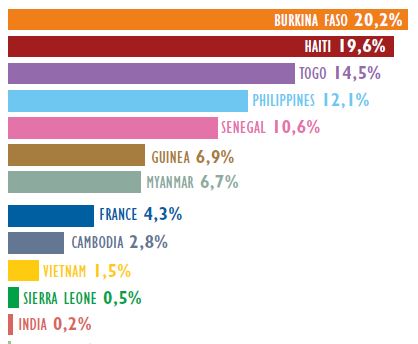 Fundraising and communication expenses
Fundraising costs amount to €388,606 (8% of jobs). These are the costs linked to communication and fundraising materials and the remuneration of team members working in communication, fundraising, and maintaining relations with sponsors and donors.
Operating costs
Operating costs amount to €683,605 this year (15% of jobs, compared to 14% last year). This increase is consistent with the increase in our actions.
Excess of fiscal year resources
The resources collected and the gains from the Chamroeun sale made it possible to cover the expenses incurred and generate an excess of €211,681.
---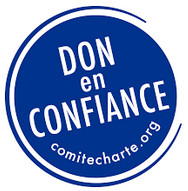 Entrepreneurs du Monde is accredited by the Comité de la Charte du don en confiance.
Audit of the financial report is made by KPMG's auditors.