You are here :

Agro-entrepreneurship
Agro-entrepreneurship
57%of jobs in Africa are in agriculture
20%of the African population suffers from malnutrition
1first program in Senegal
Figures 2019
Farmers in sub-Saharan Africa have many challenges to face, resulting in low yields and small incomes. These small producers are the first to suffer from lack of food and/or malnutrition.
The problems of agriculture in Africa
The difficulties encountered by farmers in sub-Saharan Africa include:
climate change:

extreme heat, a dramatic reduction in rainfall and its concentration within fewer days of the year, leading to soil erosion and washout, etc.

increasing desertification

, with the Sahara advancing every year;

very poor quality seed often being used

;
misuse of artificial fertilisers and a poor understanding of production techniques washing out arable soils and making harvests very meagre;
difficulty financing farm inputs and investment;
problems transporting their agricultural products to market;

lack of infrastructure for conservation or processing

, leading to heavy losses.

Take for example onions in Senegal: the total national production only fulfils the country's needs for 5 months of the year, and Dutch onions have to be imported for the rest of the year. Yet Senegalese producers lose between 20% and 70% of their onions every year due to a lack of adequate means of conservation.
In Casamance, fruit producers too lose 70% of their produce. Despite producing plenty of fruit and vegetables, the processing units that are mainly staffed by women are forced to stop work for a large part of the year because they are unable to store their produce.
Agribusiness entrepreneurship solutions to strengthen the sovereignty of small scale producers
Since 2018, Entrepreneurs du Monde has prioritised agriculture in its work. We provide agricultural training, loans adapted to the harvest cycle and granaries for storage and we seek to strengthen the farming sector.
SOLUTIONS
The team has been looking for solutions to strengthen the sovereignty of small-scale producers and has decided to prioritise certain activities. They have therefore:
designed and custom-built storage facilities using sustainable architecture;
put in place quality seed nurseries;
put in place tree nurseries to slow down the desertification process and improve food security;
mobilised Entrepreneurs du Monde's social microfinance programme to offer loans tailored to agricultural needs;
trained facilitators who can bring technical agricultural advice, using techniques that respect the environment and the soil.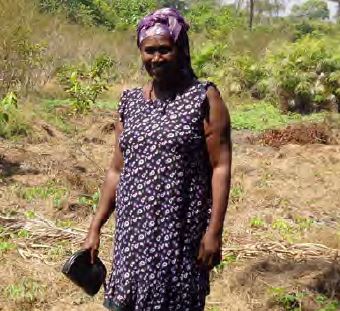 In the medium term, Entrepreneurs du Monde is also preparing to set up a training farm to enable small producers, both male and female, to educate themselves on the techniques of agroecology, agroforestry, breeding of small ruminants and ponds for breeding fish.
All of these activities contribute to better food security and help to save the environment, while providing a better quality of life for families and new job opportunities for the young.
Entrepreneurs du Monde's agro-entrepreneurship programmes