You are here :

EMERGENCE : Support to very small businesses in Burkina-Faso
EMERGENCE : Support to very small businesses in Burkina-Faso
206people assisted to become entrepreneurs
170people assisted with professional integration
*Chiffres 2021
In certain peripheral districts of Ouagadougou, the capital of Burkina Faso, the population is very dense and poorer than the average. A large part arrived there after the rural exodus and are young (15-35 years old). The inhabitants live in very difficult conditions and have great difficulty finding stable and regular sour income. However, they can gain autonomy and contribute to the economic development of Burkina Faso with help to create a business or find a job.
To support these populations towards economic and social integration, the NGO Entrepreneurs du Monde created the Emergence program in 2017. The team offers group training courses and personalized individual support to young people and women from the outlying districts of the capital.
EMERGENCE : program methodology

The team offers a care, counseling and orientation service to job seekers and entrepreneurs. 76% of them have never been trained for professional integration or entrepreneurship. After this first step, the project holder is oriented towards the "Professional integration" or "Entrepreneurship" course. By integrating the right course, he has access to training and to regular and individual support from a support manager to define and carry out his professional project.
– Professional integration: professional project, CV and cover letter, interview preparation.
– Business creation & development: business plan, fundraising, sales and management training.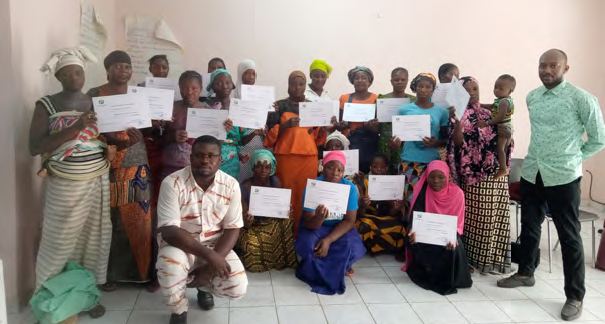 Incubation – Viability – Autonomy

As with all the programs it creates and incubates, Entrepreneurs du Monde supports Émergence in its structuring and empowerment. To achieve financial viability and sustain its actions, Émergence has initiated a business-school model in the social care sector: the school axis offers training and qualification as well as support for professional integration, and the business axis offers professional experiences to those learning. In 2021, Émergence started a commercialization pilot program of these personal services.
Safi Sawadogo
"EMERGENCE gave me very concrete support! »
"My name is Safi Sawadogo, I am 44 years old and I am a widow. I have 6 children aged 4 to 18, 3 of whom go to school. Émergence has given me very concrete support: I participated in its training in cleaning and maintenance, and then Émergence found me a job. I have been cleaning for a family for 8 months. I am relieved because this income allows me to meet my family's expenses and my children's school fees. »
>> More testimonials at the bottom left of this page.