You are here :

Support to very small businesses
Support to very small businesses
675entrepreneurs supported with the creation of their vsb
449 people guided in their occupational integration
Figures 2019
Project leaders

among the most deprived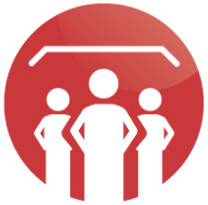 In the countries where Entrepreneurs du Monde operates, the rural exodus and growing urbanisation is leading populations to settle in suburban areas, where they hope to fulfil theirs' and their families' needs. These peripheral areas surrounding capital cities are overflowing with these, more than often, very young people, illiterate, and rarely owning means of transportation. In these precarious areas, basic social services are weak or nonexistent. Most of the inhabitants experience difficulties in accessing public or private initiatives which support professional training course and employment. The unemployment rate is higher amongst women. Barriers to gaining employment are usually financial pressures, illiteracy, and distance, but also simple ignorance of existing opportunities. A lot of people only need to be supported to begin the process leading them into entrepreneurship and work. To respond to this major challenge, Entrepreneurs du Monde wants to continue supporting Say Yes! To Business, created in 2010 in Haiti, and three organisations created in 2017 in Burkina Faso, Senegal and Togo.
Entrepreneurship and Professional Integration Offices



When visiting an Entrepreneurship and Professional Integration Office, every person with a professional project as an entrepreneur or employee will be welcomed, listened to and then directed towards more specific services adapted to their needs.
Concerning entrepreneurship, we encourage people looking to set up production or service businesses (unlike purchase and resale activities which are supported by our Social Microfinance section), allowing to create added value and employment within disadvantaged neighbourhoods. These beneficiaries attend a training path dedicated to entrepreneurship and a personalised support to create and develop their very small business.
In terms of professional integration, the selected persons are supported to strengthen their technical knowledge and skills, and then to look for a stable job in a local company.
Everyone is offered useful qualifications as well as long-term support. By supporting project leaders with their initiatives, Entrepreneurs du Monde hopes to contribute in setting up long-term and job-creating businesses.
Partnerships tied to public and private actors, and financial institutions 
To offer services adapted to the needs, expectations and profiles of project leaders, the organisations supported by Entrepreneurs du Monde are working with professional training centres, local authorities and private companies located within the territories.
Moreover, to fund a part of their training and their newly created business, the entrepreneurs will benefit from partnerships developed with public and financial institutions.
Finally, by relying on local authorities, private companies and other development actors, Entrepreneurs du Monde encourages the reinforcement of capabilities of its associated professional training centres, thereby developing training courses better adapted to the needs of other project leaders.
Entrepreneurs du Monde's support to very small businesses programmes