You are here :

Isatu, shop owner in Sierra Leone
Isatu, shop owner in Sierra Leone
In Sierra Leone, the population is very young and lives mainly in rural areas. Unemployment is high and most young people are unemployed or underemployed. To make a living, many open a workshop, cultivate a field or raise a few cattle. But they lack the resources or training to develop their activity and make it profitable.
Munafa, social microfinance programme created and incubated by Entrepreneurs du Monde in Sierra Leone, was launched in 2018 to help vulnerable families develop their business, income and improve their living conditions in a sustainable way.
Isatu is a Munafa beneficiary, she testifies.
"I am a shop owner. Thanks to Munafa, I have access to loans and training to develop my business."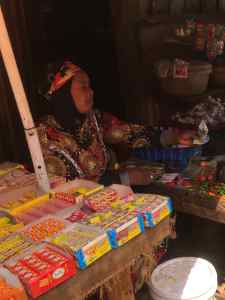 A welcome and visible stall
"When I started, I was selling my products next to my house, but I didn't have any equipment, and I didn't have all the products that the customers asked for. Thanks to loans from Munafa, I rent a place in the market, where I can show off what I sell more: onions, sugar, oil, beans, tomatoes, etc.
I attract more customers and my sales have increased a lot!"

Children at school
" The money I earn allows me to feed my children every day and pay their school fees. I am very proud to be able to take care of them and have my own business."
Better living conditions
"I wish to buy a land to build my own house and thus offer better living conditions to my children."